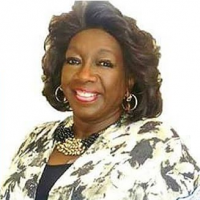 The Word of God says, "For many are called, but few are chosen (Matthew 22:14) 
Apostle Wilhelmenia E. Brown, stands as one who is called and chosen, by God, for such a time as this!
She walks with integrity, in the WORD and WILL of GOD, carrying a Weighty, Apostolic Anointing. The Five-Fold Ministry:  the apostle, the prophet, the evangelist, the pastor, and the teacher is made manifest in her life and ministry. Her LOVE and COMMITTMENT to God and HIS people is powerful, and drives her to continually share the Revelation of the WORD OF GOD in clarity and simplicity so that ALL who hear it, can understand, believe, receieve and walk in it.